Wikibon gives a positive review to Oracle Data Base Appliances (ODA). "The ODA is a good example of what we see as a specialized private cloud designed to support Oracle database workloads"
Contributing Analysts:
David Floyer
David Vellante
Premise
The main theme of this research note is that the Oracle Database Appliance (ODA) is a good example of what we see as a specialized private cloud designed to support Oracle database workloads. It sacrifices flexibility and choice of the individual components of a system and higher cost of hardware for much lower cost of Oracle software licenses, much better operational productivity, improved application programmer productivity and faster time to value for solutions built and deployed on the ODA.
Wikibon believes products like ODA underscore a strong long-term trend in the infrastructure business where increasingly IT operations professionals will trade choice of bespoke hardware components for integration and reduced complexity. Fundamentally, we believe the work of testing, maintaining and updating infrastructure should move from enterprise IT staff to the vendor, creating a win-win disruption with significantly lower costs for both parties.
This research note is designed to support the near and mid-term infrastructure plans for Oracle infrastructure practitioners and DBAs, and better understand the fit of products like ODA relative to other appliances in Oracle's portfolio.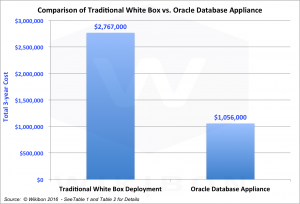 Key Findings of this Study
The following key points from the research we've performed are noteworthy:
•The Oracle Database Appliance is a specialized, integrated system designed specifically for Oracle database workloads. It is designed as an alternative to "roll-your-own" bespoke component systems;
•The 3-year cost of a bespoke white box/components approach is 260% higher than using a solution like ODA – which we consider to be a building block of True Private Cloud: •Major ODA savings come from: 1) operational support; 2) database license and maintenance costs and 3) application maintenance and testing.
•Of these, by far, the greatest cost savings come from lowering database license and maintenance costs because consolidating the number of processor cores has a direct effect on reducing license costs.
•Customers evaluating the business case for ODA should view the degree to which the CAPEX costs can be offset by lower administration costs and reduced ongoing operating expenses;
•The so-called "soft dollar" benefits of using an appliance like ODA include faster time to deploy applications which, depending on application value can be significant;
•ODA customers value the "one throat to choke" as with other so-called converged infrastructure. The benefits of simplified updates and patching are greater with ODA because the scope of the product includes the database;
•ODA is limited in size and can handle many, but not the larger enterprise workloads. We believe Oracle has positioned ODA to minimize overlap and not cannibalize Exadata sales;
•One recent upgrade is that ODA does not require planned downtime for most updates; practitioners requiring near-zero planned downtime should evaluate solutions like Oracle Data Guard (as part of Oracle 12c) to facilitate almost all updates and upgrades without planned downtime; for Customers requiring automatic reconnect as part of failover should evaluate solutions like Global Data Services (also part of Oracle 12c) to facilitate this;
•Customers should note that for high availability Oracle RAC deployments, there is no AWS public cloud database service support.
Full article available at
http://wikibon.com/oracle-database-appliance-evolves-as-an-enterprise-private-cloud-building-block/