Sabeo are pleased to announce our partnership with NGINX to incorporate their solutions into our portfolio of leading open source technologies for clients looking to implement an enterprise class microservices strategy.
Powering half of the world's busiest sites, NGINX is the heart of the modern web. NGINX helps you deploy and deliver your sites and apps with performance, reliability, security, and scale. NGINX ensures maximum performance and flawless delivery for almost any application (whether a legacy application, traditional web app, or interconnected microservices) and equally for all types of infrastructure (bare metal, the cloud, or in containers).
Microservices Architecture pattern – enabling the agile development and delivery of complex enterprise applications.
Instead of building a single monolithic application, Microservices Architecture patterns have a number of important benefits, by breaking down down the monolithic application into a set of smaller interconnected services it initially tackles the problem of complexity. While the total amount of functionality is unchanged, the application has been broken up into manageable chunks or services. Each service having a well‑defined boundary in the form of an RPC‑ or message‑driven API. The Microservices Architecture pattern enforces a level of modularity that in practice is extremely difficult to achieve with a monolithic code base. Consequently, individual services are much faster to develop, and much easier to understand and maintain.
Microservices Architecture pattern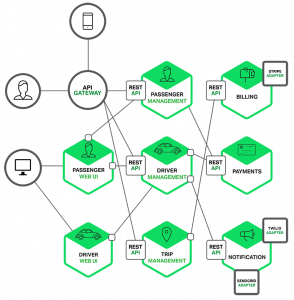 Each microservice is a mini‑application that has its own hexagonal architecture consisting of business logic along with various adapters. Some microservices would expose an API that's consumed by other microservices or by the application's clients. Other microservices might implement a web UI. At runtime, each instance is often a cloud VM or a Docker container.
Using an API Gateway
Usually a much better approach is to use what is known as an API Gateway. An API Gateway is a server that is the single entry point into the system. It is similar to the Facade pattern from object‑oriented design. The API Gateway encapsulates the internal system architecture and provides an API that is tailored to each client. It might have other responsibilities such as authentication, monitoring, load balancing, caching, request shaping and management, and static response handling. The following diagram shows how an API Gateway typically fits into the architecture: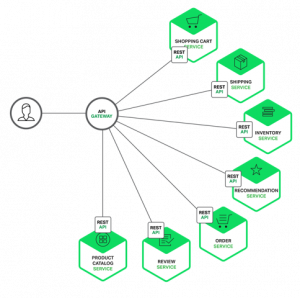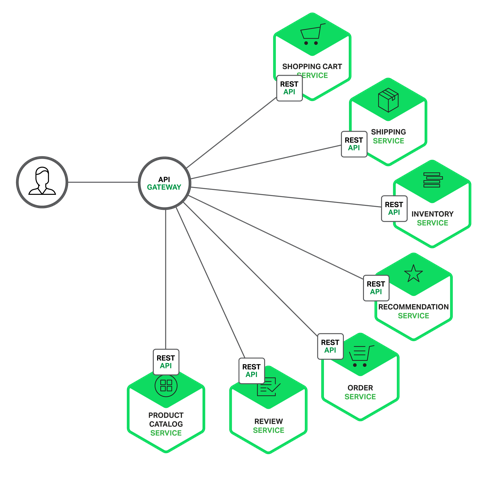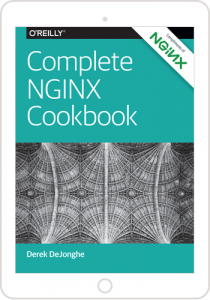 Download the free NGINX ebook, you can learn how to
Configure caching, load balancing, security, WAF, cloud deployments, and other critical NGINX features
Protect your applications: mitigate DDoS attacks, stop Layer 7 attacks, and configure Single Sign‑On with OpenID
Deploy NGINX and NGINX Plus in AWS, Azure, and GCP; as well as in Docker containers
About monitoring and troubleshooting application performance with NGINX
Try NGINX Plus and NGINX WAF, Free for 30 Days
Get high‑performance application delivery for microservices. NGINX Plus is a software load balancer, web server, and content cache. The NGINX Web Application Firewall (WAF) protects applications against sophisticated Layer 7 attacks. Try both NGINX Plus and NGINX WAF free for 30 days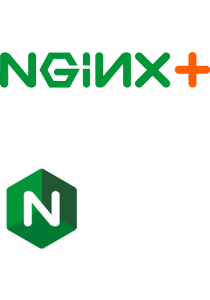 The NGINX Application Platform, comprises of four core components that includes a load balancer, content cache, API gateway, WAF, and application server – all with centralized monitoring and management for monolithic apps, for microservices, and for transitional apps. Each of which can be procured separately for vertically orientated use cases.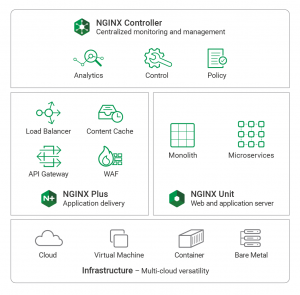 NGINX Plus is the enterprise edition of the widely deployed community version of the upstream NGINX web server
NGINX Web Application Firewall is the enterprise edition of the open source ModSecurity Web Application Firewall
NGINX Unit is a new enterprise edition of an application server designed to deliver enhanced features and capabilities to applications running PHP, Python and Go code with future
NGINX Controller is a management and monitoring platform for all of the NGINX Application Platform components through a single GUI interface.
These products complement and expand the leading CSP service offering from Sabeo which is built around the Red Hat OpenShift PaaS offering. These integrated NGINX products enable clients building out a microservices strategy, to optimise throughput and deliver exceptional performance across a fully distributed microservices architecture in a highly efficient, secure and cost effective manner.
See more details at: https://www.redhat.com/en/resources/nginx-openshift-solution-brief#
For more information on our NGINX solutions, please contact us:  roz.baird@sabeo.com
Sabeo will be hosting a NGINX Technical Workshop on the 23rd November, details to follow..