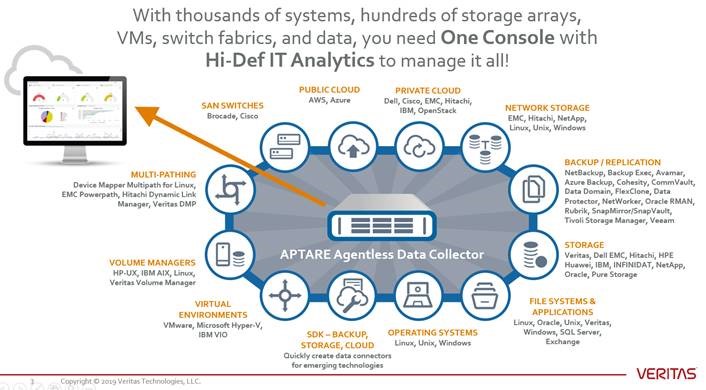 Today, the protection and management of business data in most organisations is split across many different tools and technologies. As organisations move data and workloads to the cloud, they face major challenges locating their data, migrating it simply and cost-effectively, and protecting it in all environments. With new data privacy laws coming into effect, organisations globally must also have the ability to see, access, protect and manage their data—no matter where it lives.
Customers use a variety of applications, such as OpsCentre , VIPR, DPA, OCI and mostly Excel, to monitor their backups, witches, storage and much more and try to implement Charge Back and predict organic or project related storage growth.  There is only ONE application, that can do all of the above and more, agnostically across multiple vendors – Veritas APTARE.
APTARE's technology provides an enhanced analytics platform that provides deep insights and reporting across different data protection, virtual infrastructure and storage environments. It will enable customers to:
Gain visibility into their complete infrastructure—on-premises and in any cloud—to make more informed decisions.
Have a common reporting platform from tape to disk to cloud, which is essential in a multi-cloud environment.
Better anticipate needs and predict outcomes, such as optimizing their infrastructure, reducing costs, and meeting compliance and SLA requirements.
What does APTARE do?
APTARE sits on top of all storage and backup vendors and offers a single pane of glass that allows customers to view the following information:
Cloud infrastructure utilisation: What am I using? In which cloud? What am I paying vs on-prem? Am I truly optimising my costs?
Storage optimisation dashboard: Where am I consuming capacity across all my in-house storage arrays? What is my physical vs. virtual allocation? When do I need to purchase new capacity? Am I optimised?
Chargeback: Consolidated reporting to provide chargeback to each business unit, department, or customer on IT resource utilisation across heterogeneous vendors and solutions.
Backup SLA status: Am I meeting all my backup SLAs? Are there backup jobs that failed? Do I have one pane of glass to report over all vendors?
Enterprise backup overview: Am I protecting all my key workloads? Are there workloads that I may have missed and not setup? Who is using my infrastructure and is it protected?
APTARE can provide the 'single pane of glass' for the LME's Data IT Analytics and save you time and money. 80% of customers see an ROI within the first 60 days.
Veritas acquired APTARE in March, 2019, where it will remain agnostic and heterogeneous.  Founded in 1993, APTARE is a global leader in reporting and analytic solutions for both on-premises and hybrid cloud environments and helps organisations mitigate the risks of their business data by identifying unprotected data, stressed storage resources, and compliance risks.  The company started as a third-party application to manage a variety of storage solutions such as Netbackup, Commvault, Veeam, Spectrum protect, EMC and many more.  They then added the heterogeneous underlying storage systems, followed by VMWare, Switches, Cloud, HyperV, OpenStack… The product supports all top storage vendors, backup vendors, virtualization and cloud vendors.